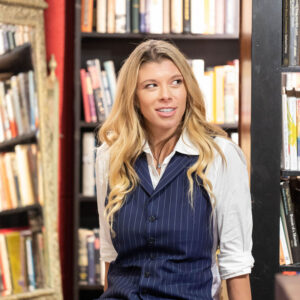 My editing journey began over ten years ago when I found myself shanghaied into the staff of an underground satire magazine. I had always been a voracious reader and a dabbling writer, but my escapades in ad hoc editorship confirmed something I'd known all along—I was destined to work in storytelling.
Fast-forward through brief careers including (but certainly not limited to): pirate hunter, Alpine au pair, and undead trolley tour guide.
No matter where my adventures brought me, I always circled back to the art of storycraft.
Then it finally hit me: My story is bringing other stories to life.
Over the course of my journey, I've worked with dozens of authors on everything from paranormal romance to military strategy. My clients have gone on to win awards, sign with top literary agents, successfully publish both traditionally and independently, and even become best-sellers. To put things simply…
I do what I love, and I love what I do.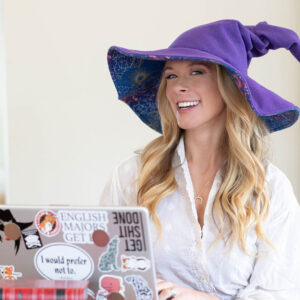 This involves drinking lots of coffee, being a gym rat, playing Dungeons and Dragons, and snuggling with my fur babies, Bilbo Handsomepants (corgi), Freyja FancyPaws (German Shepherd goddess), and Kitty/Pickles (an actual cat).
As if running a small zoo wasn't enough, I currently serve as a Write Hive resident editor. If you're hankering for some bookish discussion, you can also catch me and my fabulous cohosts on the Word Nerd Café Podcast.
---
My Books
Tales to chill the bones and warm the heart.
I love any and all stories, but I specialize in middle grade horror. All my original fiction is represented by Lynnette Novak of the Seymour Agency.
Here are a few of my favorite titles.
HONORA HAGGERTY'S HALFWAY HOME FOR HAUNTS

When twelve-year-old Gwinnett is accidentally flattened by a runaway tourist trolley on the shady streets of Savannah, Georgia, she finds herself in a ghastly predicament: She's not alive, but she's not quite dead, either. Caught somewhere between this life and the next, she's shanghaied into an apprenticeship with the local witch, Honora Haggerty.

Honora isn't just any witch. She also serves as Savannah's resident psychopomp, tending to wayward spirits and helping them pass on to the other side. As exciting as it is to revisit Revolutionary battles and placate long-dead divas, Gwinnett's duties don't change the fact that she's just as trapped as the spirits she serves. As her old life begins to fade into history, she becomes even more determined to find a way back.

But when a shadowy corporation begins threatening Savannah's most historical (and haunted) landmarks, a string of suspicious deaths plagues the city. Gwinnett knows that an untimely end can be upsetting, but is this really the work of an angry ghost?
FREAKED

Arnie Armstrong wishes for a different life. As the band geek son of two legendary bodybuilders, his proclivity for Dungeons and Dragons over crunches and bicep curls doesn't do him any favors when it comes to finding his place in his extraordinary family. Secretly, Arnie wishes he had the suave, brooding magnetism of his classmate, Zane DeSang, who never says a word, but somehow manages to be the coolest kid in class.

What Arnie doesn't know is that Zane is wishing for another life, too. Despite being pressured by his cape-wearing, "traditional" vampire family, Zane wants nothing to do with world domination or terrorizing rustic villages. He longs to spend his days as a normal kid like Arnie—hanging out with friends, playing trumpet in the band, and enjoying something other than a liquid lunch.

But when Zane and Arnie fatefully collide in the local cemetery, things get freaky. Arnie wakes up in a coffin while Zane wakes up mortal, and when they discover they've switched bodies, they decide to take a stab at living one another's lives. Between babysitting feral bat relatives and avoiding Mrs. Armstrong's infamous brussels sprout pizza, swapping bodies isn't as easy as it looks. And when a trio of vampire hunters roll into town, the stakes get even higher. The boys must work together to protect Zane's family and reverse the swap before one of them gets skewered—leaving the other trapped forever.

FREAKY FRIDAY meets HOTEL TRANSYLVANIA in a zany, paranormal body swap.
SKIN AND BONES

Meat is murder.

At least, that's what twelve-year-old magician Raine Foxworthy thinks.

But Raine isn't sure what to think when her neglectful foodie parents drag her along for a family vacation at L'Hotel Sanable, a luxury resort specializing in reuniting estranged families. Raine, accustomed to disappointments and an empty apartment, is enchanted by the hotel's accommodating (albeit strange) recreation program. While the parents enjoy all the boring, adult features the resort has to offer, the children are taken to "the pasture," an isolated wonderland of games where nursemaids stand by with mountains of good things to eat. The tight-lipped hotel staff caters to Raine's every whim, and the charming hotel manager, Madame Ingrid Mastanotti, promises the children anything and everything they want.

The Sanable is a picture of perfection. So why can't Raine shake the feeling that something's wrong?

CORALINE meets HANSEL AND GRETEL in this skin-crawling, middle grade horror.
CUCKOO BIRD

In a house of seven kids, twelve-year-old PJ McFarland feels invisible. That is, until she's befriended by Avery Sikes, the new girl who bewitches everyone she meets. Smooth-talking, picture-perfect Avery is everything PJ's not, and when she starts wearing PJ's clothes, doing her homework, and seating herself in PJ's place at the dinner table, the mysterious new girl seems to fit into PJ's life even better than she does.

But when a series of horrific accidents start plaguing the McFarland siblings, PJ discovers just how far Avery will go to "craft" her perfect family—and dispose of anyone who gets in her way.

Somewhere in the nightmare realm between Stephen King and GOOSEBUMPS, this insidious middle grade horror is perfect for fans of WAIT TILL HELEN COMES.
THE BOUNTY HUNTER'S BLADE

Twelve-year-old Lou is a werewolf, and in 1860 Texas, that's not a good thing. When one heroic act exposes his true nature, Lou is forced to flee his small-town life of hiding to seek his last hope of safety—the long-lost mother who abandoned him at birth. But the old west is a dangerous place. Between murderous fur traders, pettifogging Bible salesmen, and shapeshifting outlaw gangs, he quickly ends up on the wrong side of the law.

Lou's luck turns when a surly, winged bounty hunter named Jericho rescues him from a crooked sheriff. Jericho begrudgingly agrees to help him find his mother, but only for a price—she needs Lou's unique abilities to locate a mysterious treasure. But the closer Lou gets to the prize, the more he begins to suspect that Jericho isn't telling the whole truth about the treasure's terrible power, her fall from heavenly grace, and his own shattered past.

THE MANDALORIAN meets THE GOOD, THE BAD, AND THE UGLY in this rip-roaring werewolf western.
OSMUND GREEN AND THE FOREVER CHILDREN

The old Kerhonkson hospital just might be 12-year-old Osmund Greene's last hope.

After being diagnosed with the same degenerative disease that killed his sister, Oz's parents have no qualms about shipping him to the remote Catskills resort to begin a controversial new treatment with the young, charismatic doctor, Zachary Crane.

But Oz isn't the only one in Crane's care. The band of wild, recovering patients call themselves the Forever Children, led by the iron whims of a reckless (debatably psychotic) girl named Ruby. Dr. Crane claims that he fixes his patients "piece by piece," and with every new treatment, Oz's old memories start to slip, only to have brand-new ones pop up in their place—memories Oz doesn't remember making.

As Oz grows stronger, Ruby's "games" get wilder. When a horrific accident exposes the truth behind the Forever Children's miraculous recoveries, he finds himself at the perilous precipice between science and sorcery. Dr. Crane is determined to keep his patients in perfect health, no matter what the cost.

But "forever" comes at a monstrous price.

FRANKENSTEIN meets a gender-swapped PETER PAN in this middle grade body horror.